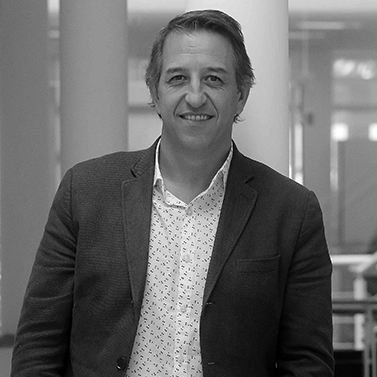 Damian Martinez Lahitou
He was born on June 8, 1971 in Buenos Aires and has more than 20 years of experience in the world of media. His first clients were McDonald's and Philips. Later, he joined Rowland Worldwide, belonging to the Saatchi & Saatchi network in Argentina, where he worked for four years and ended up as Executive Account Director. During that time he was the head of strategic communication campaigns for clients such as Toyota, Jergens Company, Tylenol, Sony and McCain, among others.
Then he decided to start working in his own communication business. It was not only his dream of creating his own agency, but also the possibility of starting a "different agency", closer to his way of seeing his profession.
In July 1998, he founded Feedback PR, an independent agency considered one of the most innovative in Argentina. In its beginnings, it was labeled by specialized means as "the young guard". Today, it is affiliated with the international Omnicom network and works for clients such as The Walt Disney Company, Moët Hennesy Group, Volkswagen, Huawei, Puma,, GSK, EPSON, Re / Max, among others. She won the Jerry Prize for the best PR agency 2019.
For 1 year, she has also been Managing Partner of Kreab Argentina, an international consultant focused on Public Affairs and Financial Communication.
Damián is a Master in Communication Management (Universidad Austral). He also complemented his training with different courses and seminars on Marketing, Communication, Public Relations and Crisis and Press Management.
He is a member of the Argentine Marketing Association, the Argentine Advertising Council and was General Secretary of the Public Relations Professional Council.
He was sworn in Argentina twice at the Cannes Lions Festival and wrote the book: Brand PR. How Public Relations can help brands.